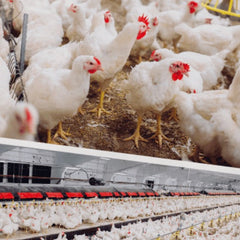 Our solution helps to Quantify the
Values of IoT Technologies for
Poultry Farming in Sudan
Background
Quality and safety of broilers are always as main concerns for consumers and affect the strategic future of poultry industry. According to research, chickens are mostly hardy but can be brought low by confinement, poor air quality, darkness, poultry diseases and related problems. Considering all analysis on the well-productive meat chicken grow-out houses, an indoor controlled-and-monitored-environment is definitely necessary for farmers.
Challenges
Ensure Indoor Environment with Higher Welfare of Poultry
Highly Maintain Good Quality and Safety of Broilers
Meet Project Budget and Build up a Sustainable IoT System
Get Real-Time Data Analysis and Report and Make Informed Decision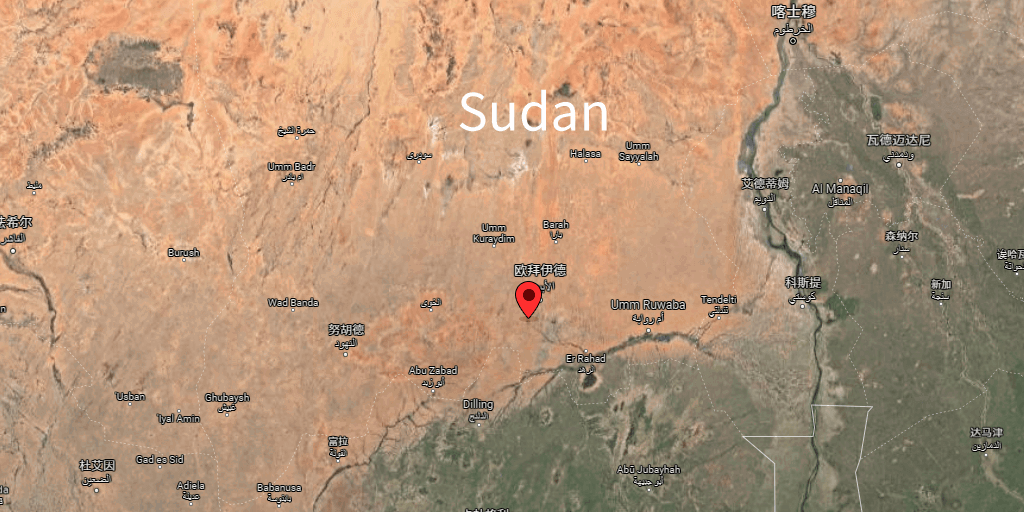 Recently, IoTNVR and Inmaa deliver an animal poultry solution based on IoT and LoRaWAN® technology to Sudanese markets. To alleviate the negative effects associated with indoor broilers housing environment, we unlocks technological capabilities of the IoT and enables the flexible wireless connectivity with presenting a solution consisting of LoRaWAN® Gateway, LoRaWAN® Sensors and IoT Platform.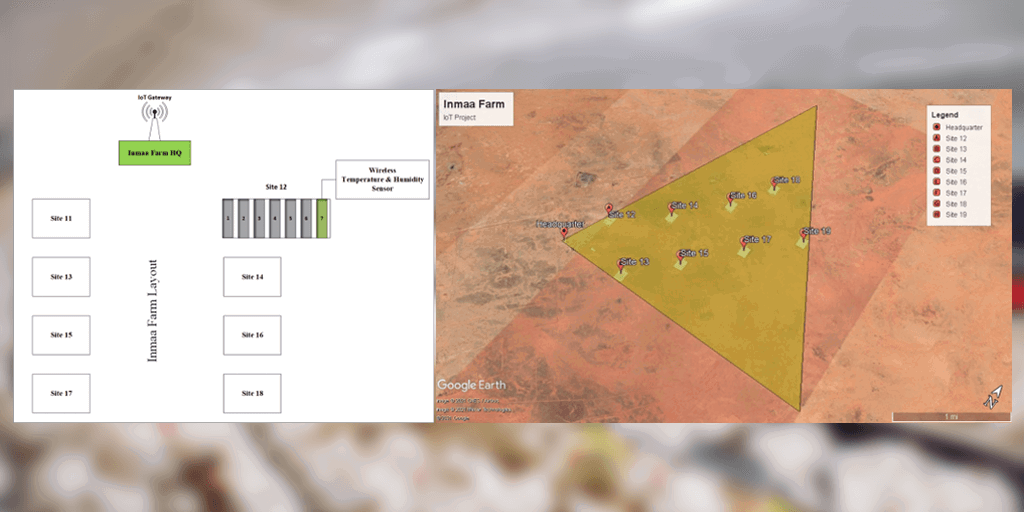 The Inmaa Farm contains 8 sites and 56 small animal housings and covers an area of 6000㎡. The LoRaWAN® based solution is deployed in the Room 7 of Site 12 to save time and stay informed with automated temperature, humidity, light and door status monitoring. The installation of all devices only takes a few days for our customers (2 people) to complete and make them function properly.


Project Goals
Real-Time Monitoring for Climate Monitoring (Temperature, Humidity, Light)
Monitor Door / Window Status
DashboardSettings
Farm Visualization (Location, Name, Information)
Enable Notification System (SMS, Email)
Real Time Analysis and Reporting
Integration with IoT Platform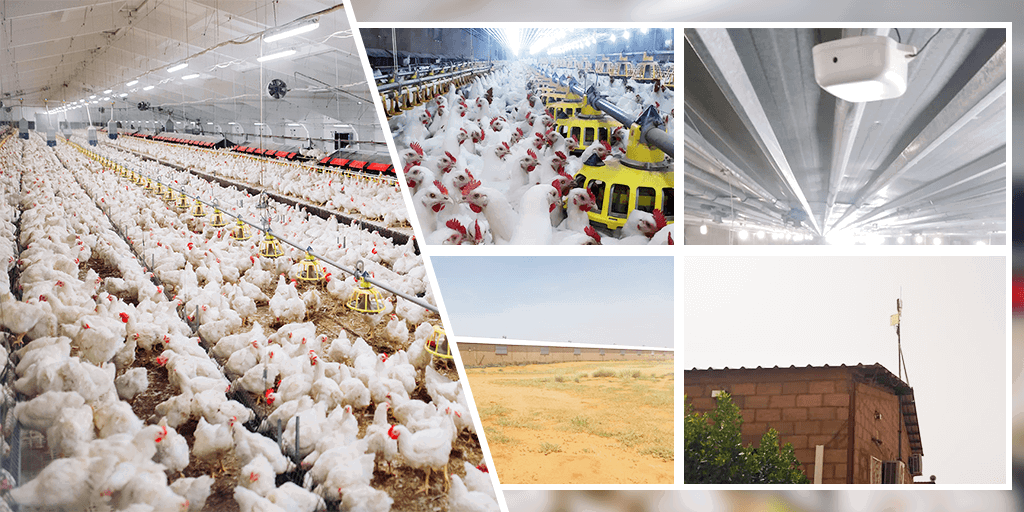 Solutions
The LoRaWAN®-based system tackles a number of pressing challenges. It is designed to solves unique and complex remote monitoring challenges by combining efficient wireless sensors and gateways to perform industry-leading monitoring, real-time reporting, and instant alerts.


Later, the sensors, including door sensor (IOT-S500-MCS), IOT-S500-TH, and IOT-S500-LGT, have been installed indoors to detect and collect values of temperature, humidity, status of door, and light status. To keep the housing environment of poultry industry steady with the suitable temperature, humidity, and light status, the IOT-S500-TH is set to send real-time measurement for every 5 min over LoRaWAN® network, the IOT-S500-LGT can detect and collect values of light and transmit to LoRaWAN® Gateway instantly without any delay and the door sensor has monitored the status of door in case any chicken running out from the housing or being confronted with unexpected intruder.


All the sensors and gateway are around 2km away from the Inmaa headquarters and all the data can be transmitted successfully and reported on the IoT platform (tested for 12 times already). The sensors and gateway support two-way communications and offer good performance in both short distance and long range connectivities. Users can get real-time data and measurements of broilers housing environment on the IoT platform and identify critical issues causing process inefficiencies, making decision towards the holistic improvement of the production chain.


To offer more streamlined and enjoyable user experiences, our customers have arranged some testings for this IoT-based solution for poultry industry. The testings for this pilot project have lasted for 8 months from summer to autumn and come with various satisfied results. It is an acknowledgement of IoTNVR and Inmaa insights that have brought greater flexibility and autonomy to the life cycle management of animal husbandry.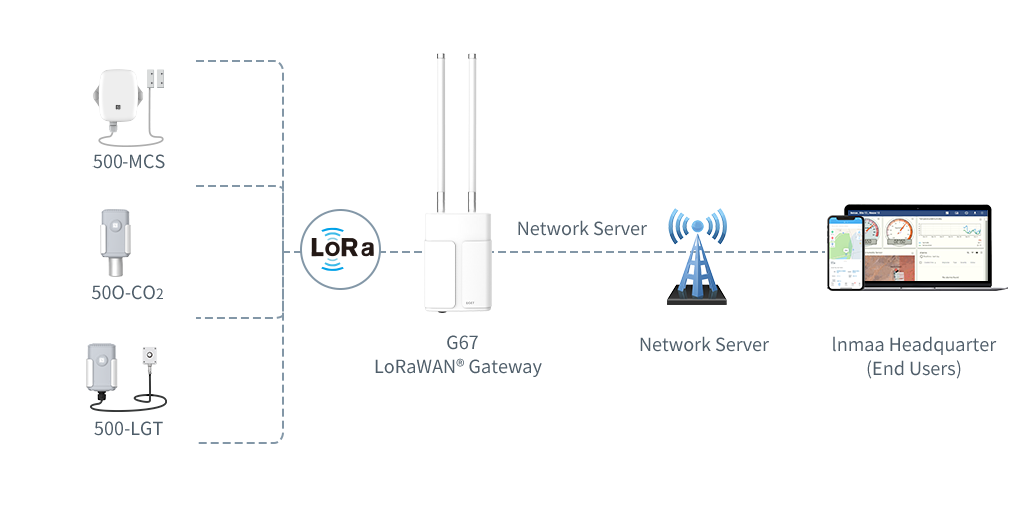 Solution Benefits
Instant Notification and Alerts
Data Visualization on IoT Platform
Make an Informed Decision with IoT Insights
Improve Operational Efficiency in Poultry Industry
Increase Broilers Production by Offering a Better Indoor Housing for Broilers