USR G771-E LTE CAT 1 modems |cellular modems
Qty available:
300
SKU:
USR-G771-E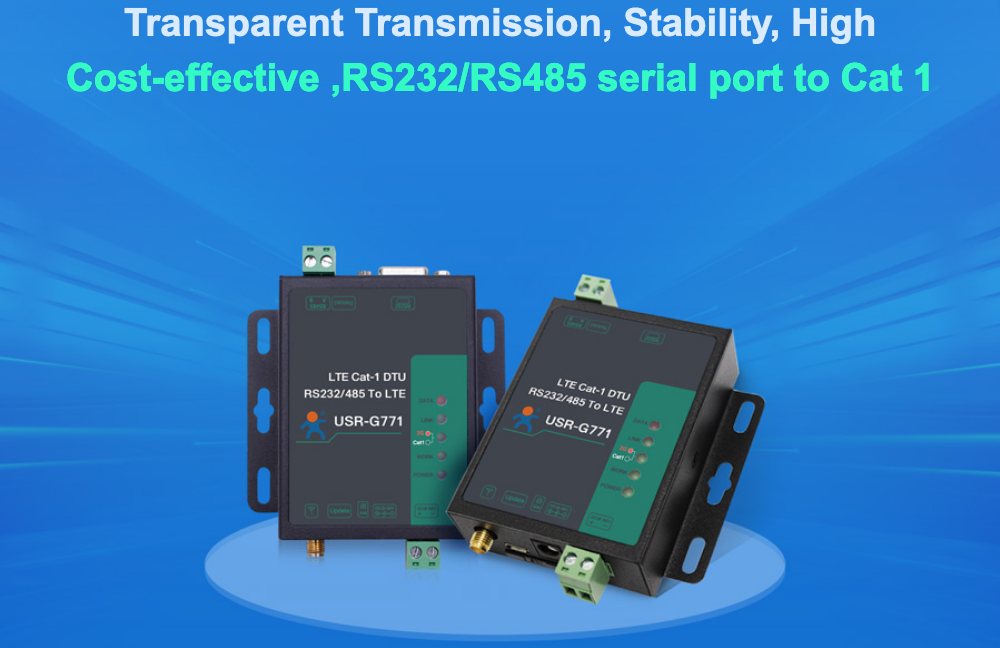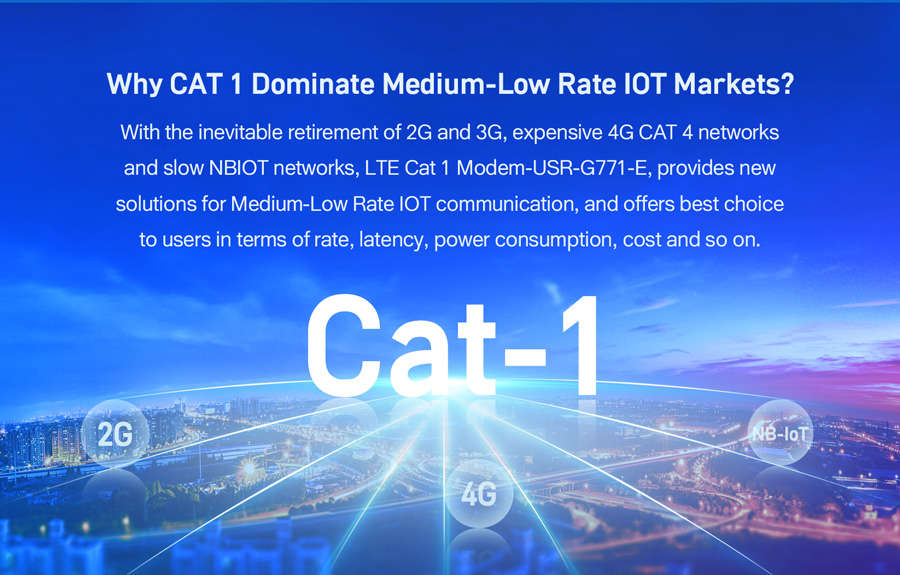 Basic Function
USR-G771 quickly delivers the bi-directional transparent transmission
of data at serial ports and networks.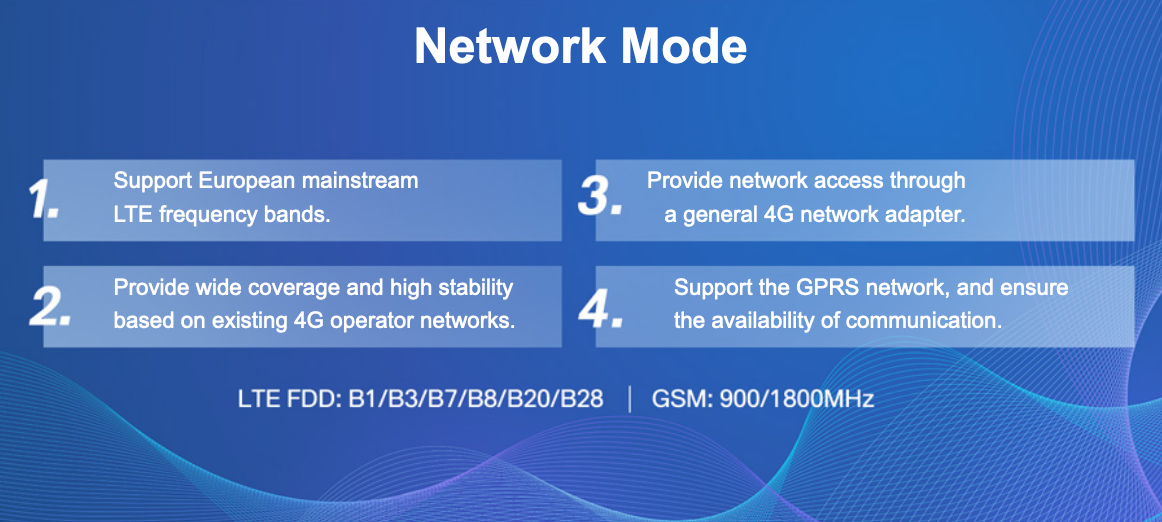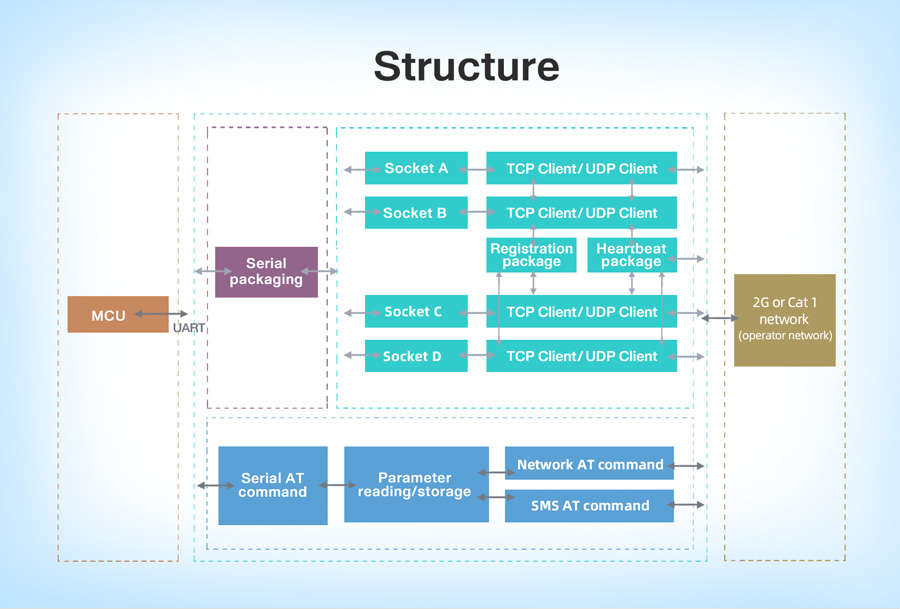 Transparent Transmission mode
The serial device is connected with the network server through G771 to deliver bi-directional transparent transmission of data.
The product supports 4 socket links, and keeps these 4 links independent of each other.








Registration Package plus
Heartbeat Package
A registration package is sent to a server to identify the device,
and a heartbeat packet is sent to a server to judge the active state of the device.
A heartbeat packet is sent to a serial terminal to actively collect data.












Parameter Configuration
Support the parameter configuration of serial,
network and SMT AT commands, and provide the configuration tool for the PC.









Remote FOTA Upgrade
With the remote management platform,
it can realize the automatic firmware upgrade
Have a small upgrade package of differential algorithm,
and this can save upgrade traffic and time.









Application Case
Quickly responding, G771 uploads the alarm data via Internet
as soon as possible, thus ensuring the safety of lives and property.









Case of Agricultural IOT Environmental Monitoring
G771 can quickly upload the data collected by sensors in agricultural
greenhouses to remote servers through the LTE or GPRS network to facilitate
the control center to monitor the greenhouse dynamics
in real time and respond in time.
























Transmission of Charging Pile Data Through Internet
As a charging pile works, its running data can be quickly uploaded to
a cloud server through the connected G771 to help the back-end operating
personnel uniformly manage the data













Models

USR-DR502-E

USR-G771-E

WH-LTE-7S1-E

LTE Category

LTE Cat.1

LTE Cat.1

LTE Cat.1

Frequency Bands

LTE FDD

B1/B3/B7/B8/B20/B28

B1/B3/B7/B8/B20/B28

B1/B3/B7/B8/B20/B28

GSM/GPRS/EDGE

900/1800MHz

900/1800MHz

900/1800MHz

Transmission Speed

LTE FDD Rel.13

10MbpsDL/5Mbps UL

10MbpsDL/5Mbps UL

10MbpsDL/5Mbps UL

GPRS

85.6KbpsDL/85.6Kbps UL

85.6KbpsDL/85.6Kbps UL

85.6KbpsDL/85.6Kbps UL

TX Power

FDD:B1/3/7/8/20/28

23dBm±2dB

23dBm±2dB

23dBm±2dB

GSM:900MHz

33dBm±2dB

33dBm±2dB

33dBm±2dB

GSM:1800MHz

30dBm±2dB

30dBm±2dB

30dBm±2dB

Rx Sensitivity

GSM:900MHz

-109.5dBm

-109.5dBm

-109.5dBm

GSM:1800MHz

-108dBm

-108dBm

-108dBm

FDD:B1/3/20

-98dBm

-98dBm

-98dBm

FDD:B7

-97.5dBm

-97.5dBm

-97.5dBm

FDD:B8/B28

-98.5dBm

-98.5dBm

-98.5dBm

Serial Parameters

NO.

RS485(Terminal)*1

RS485(Terminal)*1

RS232(DB9)*1

TTL(3.0V)*1

Data Bits

8

8

8

Stop Bits

1,2

1,2

1,2

Parity Bits

NONE,ODD,EVEN

NONE,ODD,EVEN

NONE,ODD,EVEN

Baud Rate

1200~230400

1200~230400

1200~460800

Physical Interfaces

SIM/USIM card

1.8V/3V(with slot)

1.8V/3V(with slot)

1.8V/3V(with slot)

Antenna

SMA Female

SMA Female

IPEX socket

USB

USB 2.0

USB 2.0

USB 2.0

Indicators

POWER,WORK,NET,LINK,RSSI

POWER,WORK,NET,LINK

POWER,WORK,NET

Reload

Button

Button

Pin,built-in Pull-up Res

Reset

/

/

Pin,built-in Pull-up Res

Hardware Characteristics

Input Voltage

9V~36V

9V~36V

3.6V~4.2V/5~16V

Connector

Terminal

DC 5.0 Jack/Terminal

DIP

Housing material

ABS Plastic

Metal

/

Dimensions(mm)

44.5×31.8×13.94

(L*W*H)

82.6×86×25

(L*W*H)

44.4×41.8×12.5

(L*W*H)

Operating temperature

-30℃~+75℃

-30℃~+75℃

-30℃~+75℃

Storage Temperature

-40℃~85℃

-40℃~85℃

-40℃~85℃

Operating humidity

5%~95%

5%~95%

5%~95%

Storage humidity

5%~95%

5%~95%

5%~95%

Software

Protocol

TCP/UDP/IPV4/IPV6/ /DNS/HTTP/MQTT

TCP/UDP/IPV4/IPV6/ /DNS/HTTP/MQTT

TCP/UDP/IPV4/IPV6/ /DNS/HTTP/MQTT

RNDIS

Default Close

Default Close

Default Close

Serial to network

4 sockets, default A

4 sockets, default A

4 sockets, default A

SMS

PDU/TEXT

PDU/TEXT

PDU/TEXT

Command mode

6 Sockets

6 Sockets

6 Sockets

Configuration

Serial,Net,SMS AT commands

Serial,Net,SMS AT commands

Serial,Net,SMS AT commands

Cache

20 packets

20 packets

20 packets

Packaging mechanism

Packaging time(ms)

10~500,default50

10~500,default50

10~500,default50

Packaging length(byte)

5~65535,defalut1024

5~65535,defalut1024

5~65535,defalut1024

Others

Tool

USR-Cat1Configuration Utility

USR-Cat1Configuration Utility

USR-Cat1Configuration Utility

Certifications

CE,ROSH

CE,ROSH

CE,ROSH