USR G806-A North American Version Industrial LTE Cellular Routers
Qty available:
300
SKU:
USR-G806-A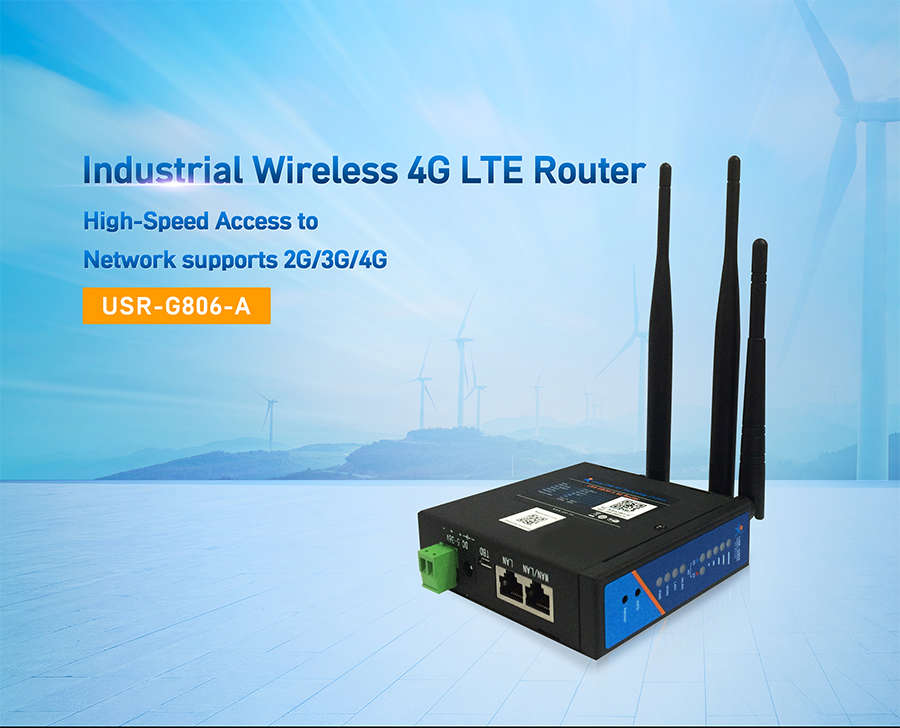 USR-G806-A is an American version of industrial LTE routers that
adopt industrial high-performance and embedded structures. USR IOT's
industrial LTE routers USR-G806-A are widely used in industrial control,
smart electricity, personal health care, and smart home to transmit
data.


G806-A Operating BandG806-A Operating Band
FDD-LTE
2
4
12
WCDMA
2
4
5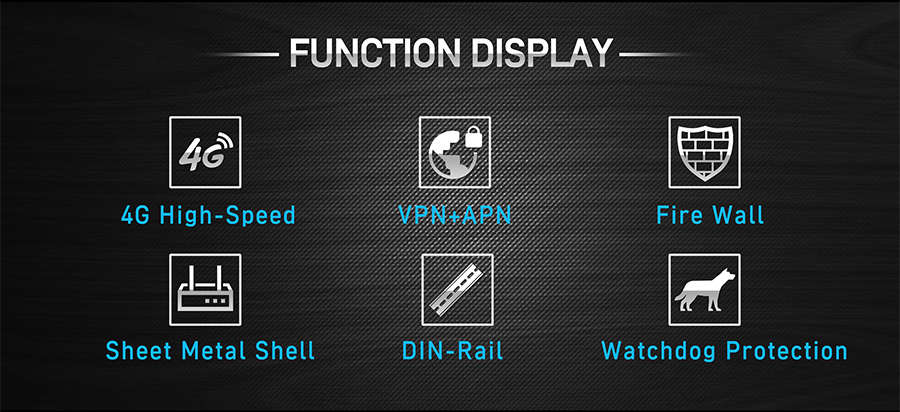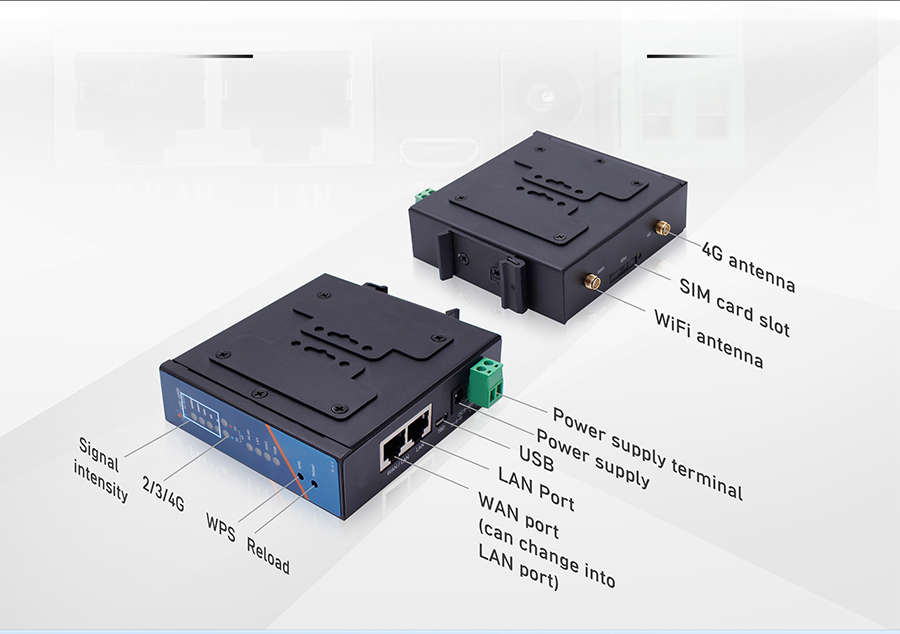 High-Speed Access to Network
LAN/WAN, 2G,3G and 4G network gives seamless switching
















Wide Coverage

Industrial LTE Routers USR-G806-A use 5dbi 4G antenna and 3dbi high gain antenna.
The distance can reach 100M in an open area.





















Multi encryption transmissions to ensure safety
Industrial LTE routers USR-G806-A support VPN+APN
Industrial LTE routers USR-G806-A support several protocols like PPTP、L2TP、IPSEC、
OPENVPN、GRE and SSTP.



























Intelligent management of control the traffic
Save traffic, and make online management easier













Industrial design
Several protection to ensure safety when it is used













Option networking modes



WAN port+ 4G networking mode Double LAN ports + 4G networking mode
Add the number of devices Saving the trouble of wiring,
in network,Suitable for the scenarios decreasing man-power and thing-power,
of high stability and data backup reducing the effective cost. Suitable for
WAN environment with relatively abundant fees.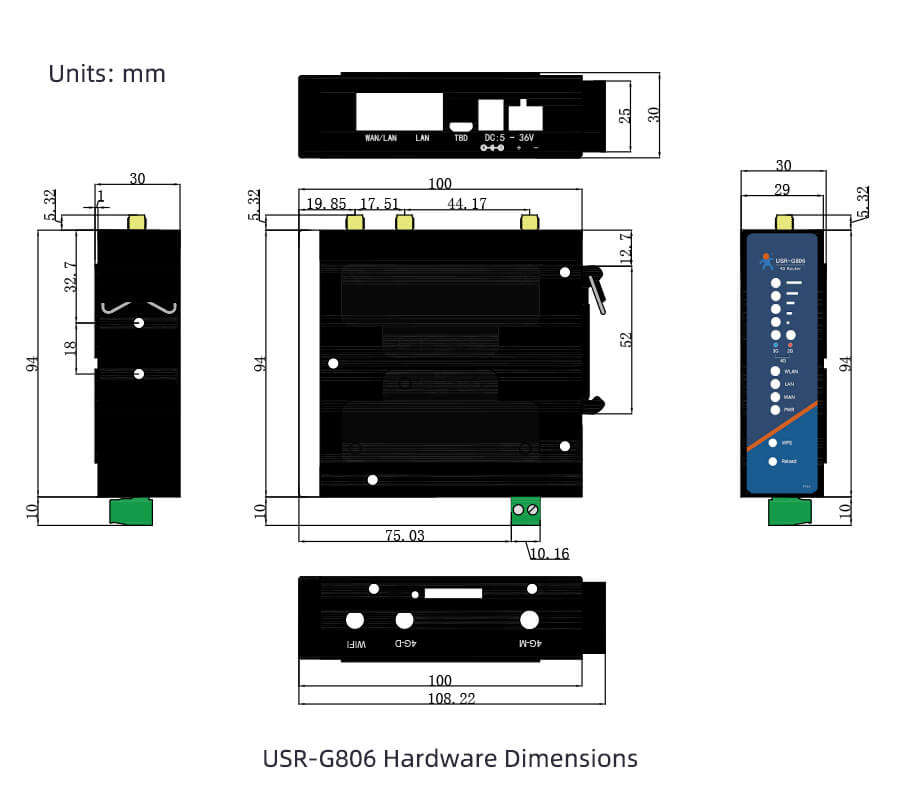 Self-service terminal transmission
Adapt to self-service terminals like supermarket game console, vending machine,parcel express cabinet and so on. Collects data from consumer completelyto assist planning and adjustment of business strategy.
Manage remote upgrade, decrease the cost of maintenance.















Intelligent parking lot transmission
The gate can choose wireless network and the indoor
can use the mode of WAN + 4G network. Fast accessing
to internet, remote management to accurate
transmission of parking status data
to create a comfortable parking experience.











Environmental monitoring transmission
Connect internet in dust environment normally and anti-interference effectively.
Timely and effective transmission of data needed to be monitored in the environment. Free choice of networking and remote realization of on-duty site.















Features of Industrial LTE Router USR-G806-A
Point 1
| | |
| --- | --- |
| Wireless | WIFI / 3G/4G |
| Power Supply | DC 5-36V |
| Frequency band | GSM/GPRS/EDGE, WCDMA, TD-LTE, FDD-LTE, TD-SCDMA |
| Configuration | Web page |
| Function | Watchdog, QOS management, DDNS, port-forwarding |
| Network | VPN(PPTP/L2TP), PPPOE, DHCP, Static IP |
| Certification | CE/RoHs |
1.1*LAN,1*WAN (WAN can switch to LAN), Auto MDI/MDIX/ WIFI 802.11b/g/n
2.Restore factory setting
1.Static Router configuration and firewall
2.Traffic service can limit the speed depends on interface
| | |
| --- | --- |
| SIM Card | Standard 6 Pin SIM card, 3V/1.8V card |
| Work Temp | -20~70C |
| Working Current | Average: 120mA, Max 246mA |
1.Static Router configuration and firewall
2.Traffic service can limit the speed depends on interface
| | |
| --- | --- |
| SIM Card | Standard 6 Pin SIM card, 3V/1.8V card |
| Work Temp | -20~70C |
| Working Current | Average: 120mA, Max 246mA |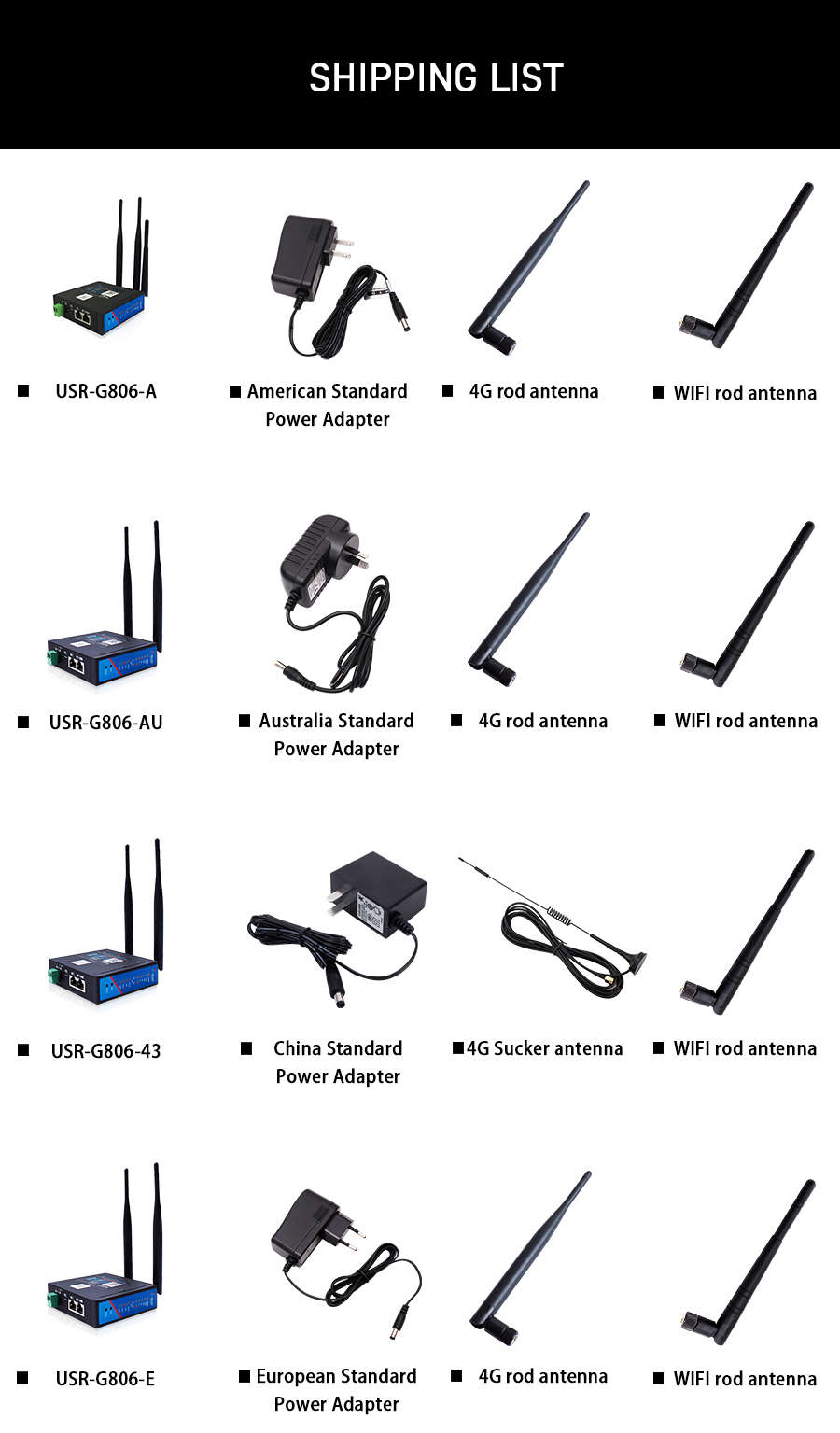 Wired Ethernet Port

WAN port

WAN *1

LAN port

LAN * 1

Both LAN port and WAN port with a rate of 10/100Mbps,Auto MDI/MDIX

WIFI

WIFI Network

Support 802.11b/g/n

Antenna

WIFI antenna *1

Specification

Interface

Mini PCI-E 52PIN

TD-LTE

3GPP R9: download rate of 150 Mbps; Upload rate of 50 Mbps

FDD-LTE

3GPP R9: download rate of 150 Mbps; Upload rate of 50 Mbps

WCDMA

HSPA+: download rate of 21 Mbps; upload rate of 5.76 Mbps

TD-SCDMA

3GPP R9: download rate of 2.8 Mbps; upload rate of 2.2 Mbps

GSM/GPRS/EDGE

Download rate of 384 kbps; upload rate of 128 kbps

Frequency Band

TD-LTE

/

FDD-LTE

Band 2/4/12

WCDMA

Band 2/4/5

TD-SCDMA

/

Information

SIM card&Antenna

SIM/USIM Card

Standard 6 pin SIM card, 3V/1.8V SIM card

Antenna

3/4G full-frequency antenna * 1

Temperature

Working Temp

-20°C~ +70°C

Storage Temp

-40°C~ +75°C

Humidity

Working Humidity

10%~90%

Storage Humidity

5%~90%

nd 3/8

Power Supply

Working Voltage

DC 5~36V

Working Current

Average: 120mA; Max: 246mA (DC12V)