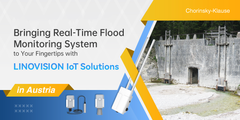 Background
Flooding is one of the major disasters occurring in various parts of the world. It can wipe away property, trees and even lives. The system for real-time flood monitoring: water level and precipitation level, was developed to be employed in Austria. The Chorinsky-Klause is a historic dam located in the Weißenbach Valley in Austria. It has protected a settlement from floods since its construction in the early 19th century. However, the location is too remote and difficult-to-reach to maintain effective management for people, especially in Winter. Hartl Consulting and Linovision partner to bring real-time data and management to the fingertips. With LoRaWAN (Long Range Wide Area Network) technology, more efficient flood monitoring solution was deployed, collecting water level data timely and generating reports for better management.
Challenges
Limited Network Coverage
There is little network coverage and there is no electricity supply in the project area. Besides, wired network deployment is often quite expensive and takes a long period of time to complete.
Time & Labor Consuming
Flood occurs when water overflows from the river, lake or from heavy rainfall and it can happen at any time of the year. Frequent check and management are necessary. However, in this case it difficult given Chorinsky-Klause is located in a very remote valley in the Austrian Alps and there is only a small dirt road leading to it.
Solution
Real-time flood monitoring is important and achievable nowadays. The data of water condition can be monitored remotely by utilizing wireless sensors and gateways that utilizes the LoRaWAN in order to transmit measured data to the applications. The developed system has demonstrated the applicability of today's sensors in wirelessly monitor real-time water conditions. The project owners are very glad to finally have data of this torrent. Before it wasn't possible to check the water level of the dam without going there. This makes it far easier to see upcoming floods and to warn the people or analyze past events.
Deployment
Around the dam there are several sensors for measuring the water level and weather data in the dam basin. We installed a IOT-S500UDL Ultrasonic Distance/Level Sensor and a IOT-S500SWL Submersible Water Level Sensor next to the dam to measure the upstream water level every 10 minutes. Further downstream there is a another IOT-S500UDL Ultrasonic Distance/Level Sensor to measure the water level after the dam every 10 minutes. To collect and transmit data, we provide two Gateways to cover the project area, IOT-G67 Outdoor LoRaWAN® Gateway and IOT-G85 LoRaWAN® Gateway. UG67 Outdoor LoRaWAN® Gateway is located at the beginning of the valley where there is a small settlement. The Gateway is placed on a small tower of the local fire brigade and is connected to the electricity grid. The second gateway, UG85 Outdoor LoRaWAN® Gateway is located right next to the dam and is connected to an existing solar panel and an external GSM-antenna. The data is sent to The Things Network and then via MQTT to a PostgreSQL database. From there it is visualized with Grafana.
*Overview of the flood monitoring project area with location of gateways and sensors (as of 21.07.2021). Basemap © basemap.at
*Overview of the flood monitoring project deployment with location of gateways and sensors. by Hartl Consulting
Users can view real-time water condition as well as the forecasting of the water condition directly from the web via applications. In addition, both of the gateways can be accessed and check via the Device Hub, which make it more convenient for device management.
*Overview of the flood monitoring project readings  sensors. by Hartl Consulting