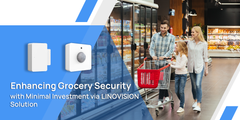 Background
The revolution of the rapidly urbanizing society involves the rapid increase of grocery stores which play an increasingly crucial role in people's lives. At the same time, the management of grocery stores brings various problems to the owners of grocery stores, such as loss of burglary damage and the high cost of unifying video surveillance. As a smart solution, the Linovision solution adopts a more convenient and cost-effective management method to prevent burglary and enhance grocery store security, which can receive alarms anytime and anywhere in a timely manner.
Challenges
- High cost of unifying video surveillance becomes a hindrance to the security system.
- Installation and maintenance are time-consuming and labor-intensive.
Solution
This solution leverages Linovision IOT-S500DCS Magnetic Contact Switch and Linovision IOT-S500L PIR & Light Sensor to implement all-round monitoring of entrances and exits, windows and warehouses to prevent potential intruders.
IOT-S500DCS Magnetic Contact Switch protects doors and windows, serving as a trigger for alarm systems when unauthorized intrusion is detected. By adopting magnetic sensor technology to function, the switch consists of two parts: a sensor and a magnet. When doors or windows open, the magnet detaches from the sensor, triggering the alert of unauthorized opening.
IOT-S500L PIR & Light Sensor uses the PIR motion detection technology to detect human presence accurately. Human presence in a non-operating time indicates the intrusion. The switch and sensor take advantage of battery power supply and wireless communication technology – LoRaWAN®, facilitating the quick and easy deployment without wiring of power supply and Ethernet.
When an unscheduled opening or human presence occurs, the sensors will send out an alert to the Linovision IoT Cloud via a LoRaWAN® gateway, enabling admins to view alerts remotely and receive instant notification