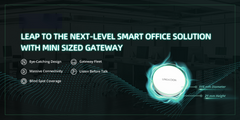 Background
In recent years, the office and the way we work have undergone a massive transformation. How do you make sure your office ticks all the boxes to accomplish your business goals? Smart office solution might be the answer you are looking for. A smart office is a workplace where modern technology is leveraged to help employees work smarter, better, and faster. Overview of office is fed with various data, collected by different types of sensors and gateways. This way, people can see which workplaces are available, where their colleagues are, which meeting rooms appear to be empty or how is the indoor air quality. To kick off and level up your office into a smart one, a mini gateway could be a suitable choice.
Challenges 
•Unnecessary Cost Consumption
For deploying smart office solution in every necessary space of a whole office building, full functional gateway could be helpful yet a little luxury considering cost.
•Incomplete Data Collection
For existent smart office solution, physical obstacles in buildings would inevitably form some blind spots, causing difficulties in receiving data to some extent.
Solution
IOT-G63 Mini LoRaWAN® Gateway is great to start smart office journey and level up user experience. The word "Mini" doesn't mean that IOT-G63 makes any compromise in terms of functions as a qualified gateway. With built-in network server, the IOT-G63 supports Semtech's latest packet forwarder, and is compatible with multiple network server platforms like TTN, ChirpStack and Link WAN, which offers a wide range of options for data processing. In addition, the Listen Before Talk function would bridge the gap between reliability and efficiency. When LBT is enabled, the device continuously monitors channels so as to transmit only when a channel is not in use.
Benefits
Affordable & Available Gateway
IOT-G63 Mini LoRaWAN® Gateway is another masterpiece from Linovision gateway family with mini size. Coupled with an elegant and aesthetic appearance, UG63 is in perfect accord with the office surroundings.
Adopting Semtech SX1302 LoRa chip, IOT-G63 supports connection with more than 2000 LoRaWAN® nodes.
Besides the general features of a LoRaWAN® gateway, the Gateway Fleet makes IOT-G63 is particularly suited to provide network coverage for indoor blind spots.
Actionable Utilization Insights
By streamlining the employee-to-facility management channel, smart office solutions can radically reduce the time and effort to menial tasks, unnecessary obstacles and activities that drain time and energy from the workforce.