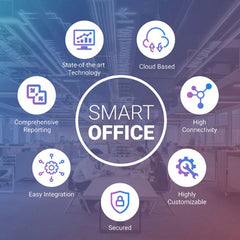 "It's not an accident that the best places to work are also the places that make the most money."
-Gordon Bethune
,
former CEO and chairman of Continental Airlines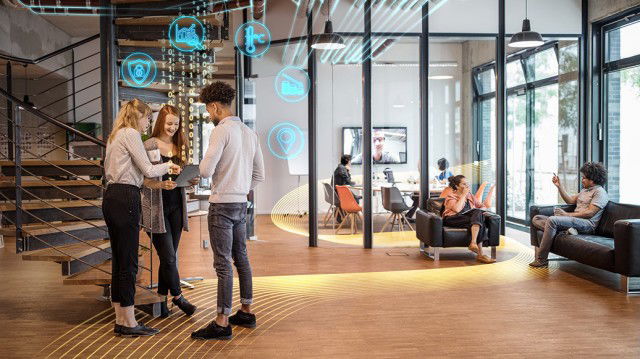 Everything you need to know about Smart Office
Offices and the way we work have changed dramatically in recent years.

In today's global economy - where employees are the most valuable asset - it is no longer enough to simply provide employees with ONLY desks, coffee and internet.

The success of your business depends on how well you support your employees. How do you make sure your office meets all the requirements to achieve your business goals? Whether you're new to the concept of smart office technology or looking to maximize your returns, this package provides everything you need to start transforming your office into one of the biggest drivers of your business growth.
What is a smart office?
A smart office is a tech-enabled workplace that gives people control over their work environment by connecting them to buildings. Platforms, IoT, and ecosystems of hardware and software make the digital workplace dynamic: connected teams can easily find each other, find the best place to work, and spontaneously enter free meeting rooms. In today's most successful workplace strategies, the smart office takes center stage.

Through smart office technology, many workspaces have transcended their once bland walls. They have evolved into unique smart buildings that are efficient, enhance well-being and dramatically improve business performance.
Why we need smart offices?
In today's sharing economy, people need flexibility. The digital revolution enabled us to work from wherever we want, whenever we want. Businesses noticed empty desks and unused spaces. They started to realize that through sharing facilities, buildings could be used more effectively. And therefore, technology was indispensable.

Besides efficiency, the importance of well-being arose. To get the best out of people, employers realized they had to make them feel great at work. Technological innovations began to turn offices into pleasant spaces people wanted to spend time in. They became more flexible and gave employees the autonomy they need to be at their best. Smart office solutions arose and became the key enabler in a future-proof workplace. Smart offices were officially born.
How do smart offices work?
Smart offices have a software platform that functions as the remote control of an office. In an application, users have a live overview on the workplace. This overview is fed with occupancy data, collected by smart sensors and Wi-Fi. This way, people can see which workplaces are available, where their colleagues are or which meeting rooms appear to be empty.


Smart Office Platforms can be integrated with several systems, for example:
Room booking systems
Air quality detector
Smart lockers
Smart parking apps
Smart Button & Switch
Besides the fact that employees are a lot more productive using a smart office app, another great benefit is the analytics portal for management. Having data insights on how people use the office, enables them spot interesting opportunities.
Conclusions and next steps
Making your office smart is an easy way to realize business growth. By offering flexibility and a personalized experience, your employees will become the best version of themselves. On the other hand, you'll need less space and facilities which means your operation costs will decrease. Or well said, you'll get more out of less square meters.


Get in touch with us today to learn more about how your organization can benefit from our smart office solutions. If you are still confused and don't know what to choose, we have also customized a co-work kit for you.


One of the best ways we can compete for talent is to offer the most creative, collaborative, and innovative workspace, make your workdays become much more productive and smarter.